Kota Tinggi is one the districts in Johor, Malaysia. It is situated at the estuary of Sungai Johor and is approximately 40 kilometre from Johor Bahru, the state capital. Kota Tinggi district is located to the south of Peninsular Malaysia and is the biggest district in the Johor with an area of 3,500 square miles. There are 10 small towns in this district with a population of 200,000; and made up of 26 main traditional villages with 117 connecting villages, 29 Felda settlements and 5 new KEJORA townships.
The name Kota Tinggi has its own history. It was given by Sultan Mahmud because of the high ground it was built on when compared to the river level.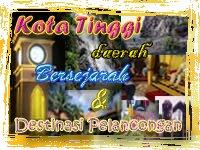 There are 4 towns in the Kota Tinggi District. One is Bandar Kota Tinggi, which is the main administrative centre for the district. Others are Pekan Sungai Rengit, Pekan Teluk Sengat dan Pekan Sedili Besar. There are also a few new towns which have been set up by Lembaga Kemajuan Johor Tenggara (KEJORA), namely Bandar Penawar, Bandar Tenggara, Bandar Mas, Petri Jaya and Bandar Perani.
This district is divided into 3 Parliament and 6 DUN zones; which are Kota Tinggi Parliamentary zone consisting of 2 State Council zones (Dewan Undangan Negeri - DUN) of Sedili dan Johor Lama; and Tenggara Parlimenary zone consisting of DUN Panti and Pasir Raja. The third is Pengerang Parlimentary zone consisting of DUN Penawar and Tanjung Surat.
The people of Kota Tinggi district are mainly farmers (Felda settlers), farmers, fishermen and industrial workers; others are government servants or work for private companies. Because of the vicinity of this district to industrial zones such as Pasir Gudang and Senai, a large number of residents also work for the industrial and manufacturing sector. However, the main occupation of being settlers are not being behind with the latest approach being planned by the government especially for Felda and Felcra. In the Ninth Malaysian Plan, a few major projects has been outlined for them such as the systematic replanting of oil palm trees and intergrated village industries; as well as modernising cultivation which is expected to attract the younger generation to be involved in this field in the future.
This district is famous for its tourist destinations not only for the state of Johor and Malaysia, but also well known in the neighbouring countries such as Singapore and Indonesia. It is here that the history of the Johor Malay Sultanate began. It was greatly influenced by Malaka, Johor-Riau, Singapore and Linggi civilisations. Sungai Johor which flows through this town has kept a lot of history on the Ancient Johor glorious years. There are a lot of historical remains and sites from the time of the rulers of the Ancient Johor which are still standing; such as Makam-Makam Lama (the ancient tombs) and Kota-Kota Lama (the ancient cities). Because this town is rich in the preservation of history, Kota Tinggi is known as the "Daerah Pelancongan Bersejarah" or The Historical Tourism District
Among other interesting places for visitors at Kota Tinggi are Kota Tinggi waterfalls, which is located approximately 16 km from Kota Tinggi town area; and if you prefer the greenery, there is also the Panti Recreational Forest or 'Hutan Lipur Panti'. Other than that, if you are into mountain climbing, Gunung Panti dan Gunung Muntahak can become your challenge. Beautiful beaches also attract the existence of tourists. Beautiful beaches also await the visitors; amongst them are Desaru, Tanjung Balau, Batu Layar and Tanjung Sedili. And while you are here do not forget to pay a visit to Kanaq Aboroginal village in Kampung Sungai Selangi which is unique to the whole world.
Kota Tinggi is definitely popular with its seafood dishes. Here, 'belangkas' (a type of crab), especially its eggs has now become the favourite dish amongst the various communities living in this town. This sea creature which resembles a shield hat is also the favourite of Johor royalties, especially the Tunku Mahkota Johor.